Kino User Interface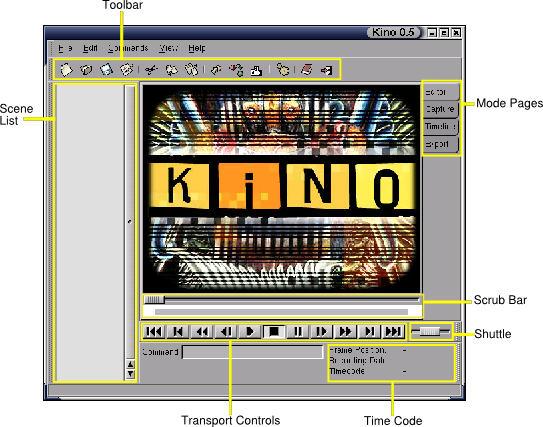 Toolbar
Use the tooltips. Briefly, they are:
New, Open, Save, Preferences
---
Cut, Copy, Paste Scene
---
Insert file, Append file, Split Scene
---
Toggle between 50%/100% views.
---
Help, Exit
Timecode
Click the timecode labels to turn it on. In edit mode, timecode displays running movie timecode. In capture, timecode display source camera timecode.
Shuttle
Drag the shuttle to the left to play in reverse. Drag a little for slow play back, medium for normal, and a lot for fast. Drag the shuttle to the right to play forward. Release the shuttle to pause. The shuttle works in edit or capture mode.
Scene List
In edit mode, click a scene to go to the first frame in the scene. Use the toolbar to cut or copy the scene. In the scene list, click the scene where the new scene belongs. Paste a scene from the clipboard or choose Insert File from the toolbar. To edit out portions of a scene, scrub to the desired location, use Split Scene, click the new scene to delete from the scene list, and then click Cut from the toolbar.
In the timeline, export still frames, or export audio modes, click a scene to set the range.